Golden Sands RC&D supports sustainable agriculture by educating dairy farmers and livestock producers about Management Intensive Grazing (MIG) practices and providing technical assistance for farmers converting to managed grazing.  In addition, we support No-Till Drill rental opportunities for farmers to interseed thin pastures and hayland that will be converted to manage pasture. We also provide the Stevens Point Area Neighborhood Gardens (SPANG) sites to offer places that residents can sustainably grow their own food. 

NEW! Powering Your Plate: A Renewable Farm Tour--Golden Sands is teaming up with Central Rivers Farmshed, Midwest Renewable Energy Association, and Northwind Renewable Energy to bring you this dynamic, informative, and energizing opportunity to learn more about how food can be produced on your farm using renewable energy systems. Click on this link to learn more and register: https://www.pointbacktotheland.com/weekends/powering-plate-renewable-farm-tour/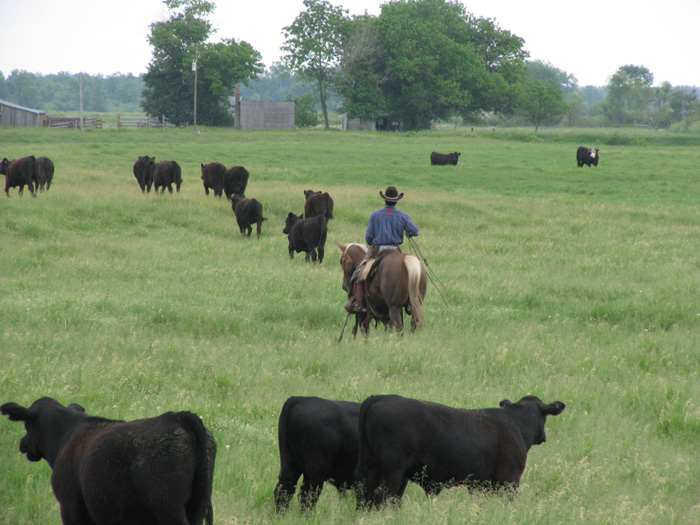 What is Grazing?
 
Management Intensive Grazing (MIG) divides a pasture into paddocks where animals graze in controlled rotations, using some paddocks for grazing and allowing others to rest and re-grow. 
Livestock graze each paddock for a brief period, then rotate to a different paddock. When a paddock is not being grazed, the pasture has a chance to re-grow leafy plants.
 
How We Can Help
 
Golden Sands RC&D offers free assistance to farmers who want to explore management intensive grazing. We can help you by providing individual farm planning, management and technical assistance. 
 
Golden Sands RC&D Programs include:

One-on-one farm and grazing system planning. We meet with you at your farm to understand the specifics about your goals and operation.
Follow-up visits. We keep in touch to make sure the system is working and you are reaping all of the benefits.
Farm mentorship opportunities. We help you get to know other farmers in your area who use MIG.
Educational programming. We organize visits to nearby MIG farms so you can see for yourself how they work.
Technical assistance and management support to veteran grazers. Wherever you are in the process, we are here to help.
Assistance in garnering government cost-share dollars for grazing infrastructure
We are proud to partner with the Natural Resources Conservation Service (NRCS), County Land & Water Conservation Departments, the Grazing Land Conservation Initiative, and UW-Extension offices to plan and implement successful grazing systems throughout Central Wisconsin.
 
Benefits of Grazing for Your Farm
 
MIG keeps your land healthier by rotating the impact of grazing rather than allowing it continuously on all land. This gives the land and plants time to re-grow. Rotating the use of paddocks for grazing yields greater amounts of nutritious forage on your land, protects soil and water, reduces the use of fossil fuels and synthetic inputs, and makes it easier for other beneficial animals, birds and insects to visit and aid in natural re-growth.
 
Following the MIG cycle means that you can continue farming with high yields and future generations can continue using the land for farming and livestock.
 
Benefits of Grazing for Our Environment
 
Our region supports many livestock farmers, but this vibrant farming community potentially means a lot of wear and tear on our soil and groundwater. MIG decreases the use of fossil fuels and synthetic chemicals and  reduces carbon pollution, while sustaining high yields, encouraging plant variety, and protecting the land for future generations.

MIG also reduces soil erosion and groundwater contamination, allowing natural processes to keep the land in place and keep water safe. It's a way for farmers to keep Central Wisconsin healthy and productive.

Our current project targets assistance to farmers in the Mill Creek Watershed, which stretches from Wood County into Portage County.  Mill Creek is listed on the EPA's 303(d) list of impaired waterways due to excessive phosphorus pollution, mostly due to soil erosion.  When farmers convert a field from conventional row crops to permanent pasture, that field drops from about 5 Tons of soil lost per acre per year to less than 1/2 Ton of soil lost per acre per year.  This project is targeting implementation of MIG on 1000 acres in the Mill Creek Watershed, which may reduce soil pollution to Mill Creek by as much as 4500 Tons per acre per year.  Wow!
No-Till Drills
If you are interested in No-Till Drill, please visit our rental page for descriptions and fees of available drills.